Start date: Module 1
November 14, 2023

Practices to free yourself and be available for others.

SOMATIC HEALING AND EMBODIED EMOTIONAL INTELLIGENCE
Online Ongoing Program

Body Oriented Psychoeducation, Appreciation and Positive Reinforcement.
After a time of pandemic, going through the ups and downs of human vacillation, experiencing loss, times of separation and disconnection, we need to give ourselves time to recover and build a new and better world to which we all belong.
This recent time has been a new eye opener for many of us. Some of us are still suffering from the consequences of prolonged isolation and reduced mobility. Much remains to be learned, discovered and changed as we deepen our body's connection to social, environmental, developmental, relational, spiritual and cultural wounds and healing.
This on-going program focuses on recovery and healing through somatic processes. The intention of this program is to offer a holistic framework for understanding and healing trauma and attachment wounds from a body-centered perspective.
Somatic Coach & Counsellor, Open Floor Embodiment Practitioner
Come into harmony through somatic healing
You can choose to join the entire program - three modules or just one
Join now
Here, I bring all my knowledge and years of experience - giving them all back to you ... because I know that:
You get stuck sometimes in dark places
You want to move forward with more ease and joy but you're not sure exactly know how
You're pretty familiar with your wounds from the past but you didn't have a chance to process and complete them
Boundaries - you know are important, but it's not easy for you to always hold them
You wish you could restore your optimal relationship to yourself and the world around you
You're finally ready to heal and recover from the stories of your mind
… because there is something in you which tells you that growth through somatic healing is possible
In this program, I will share my knowledge gained from the various trainings I have taken on topics such as:
Integrative Somatic Trauma
Somatic Attachment Theory
Applied Polyvagal Theory
Integral Family System
Hakomi Method
And all this wrapped and given for you through a clear and resourced based embodiment Open Floor practice.
What can you expect in this program?

We will meet twice a month. At the beginning of each month, I will introduce you to the topic through a topic presentation and psychoeducation, and then we will focus on practice.

Interactive
We will create a practice space together, inviting mindfulness and embodied movement practice during which you will receive guidance.
In a safe environment, receiving support from me and the group you will explore new territories of your body, heart, mind and soul.
.
Psychoeducation
At the beginning of each month, I will introduce you to the topic through a topic presentation and psychoeducation.

I will share my knowledge with you, give you a visual slide presentation, and provide links to resources where you may go even deeper into each topic if you so desire.
Exercises
At the end of each session, you will receive a small homework assignment with practical tools to help you access the innate wisdom that will guide your healing process. After every fourth session, you will have the opportunity to have a one-to-one session with me to look at what has emerged for you on a deeper level.


We can only heal and recover our wounds at our own speed.
You will do what is best for you.
Nothing is compulsory. This is a support system.
I provide perspectives, meditations and exercises while you choose your own journey at your own pace.
We are aiming for recovery through somatic healing.
I know the routes back to joy
because I walked through some dark caves.
And now I'm giving them all back to you.
I don't promise quick fixes. There are no "steps to learn." I offer a powerful, resource-based system that draws on the wisdom of world-renowned somatic practitioners, my teachers and the trauma therapy healers I have been privileged to meet along the way.
3 month program (9 group sessions, each lasting 2 hours)

Module 1:
dates & time: 14, 21 & 28 Nov 2023 at 7pm CET
Polyvagal Theory & Embodied Emotional Intelligence
3 sessions across 1 month
Module 2:
dates & time: 5, 12, 19 Dec 2023 at 7pm CET
Our Inner Parts & The Depth of Our Interiority
3 sessions across 1 month
Module 3:
dates & time: 9, 16 & 23 Jan 2024 at 7pm CET
Attachment Theory & Embodied Practice
3 sessions across 1 month
You may join one module or all
Space is limited to 16 people for each module.
This will provide an opportunity for engagement, discussion, and an atmosphere that fosters deep listening and attentiveness.
For any group participant that would like to have more individual counselling time to attend to issues arising,
I will make space in my schedule for group participants who ask.
Individual sessions will be available at a reduced rate of 65€ for the duration of each module.
Come into harmony through somatic healing
You can choose to join the entire program - three modules or just one
I'm ready for reCovery
You will gain a deep understanding of how Polyvagal Theory provides an essential foundation in trauma healing
You will understand the difference between mindfulness and emotional intelligence
You will gain body mapping practice to facilitate resilience
You will discover and experience techniques of co-regulation
You will get to know the different internal parts and learn to understand them and navigate between them.
You will practice and apply tools that strengthen emotional intelligence and sensation tolerance.
You will identify self- and collective-care practices to navigate boundaries and energy sustainability
You will take these insights into your relationships.
You will learn about attachment principles and somatic approaches to healing them
Your healed sense of self will help the people around you heal.
You'll strengthen your connection with Body … Heart … Soul… & your Creation.
PAY WHAT YOU CHOOSE
Pricing
Accessible pricing is part of my embodied life business. Please choose what you can afford for the value of my work.
With gratitude + respect

3 group sessions (each lasting 2 hours)
1 one-to-one session (lasting 1 hour)
Entire Program - 3 Modules
SAVE 60€ BY PRE-PAYING ONE PAYMENT

9 group sessions (each lasting 2 hours)
3 one-to-one session (lasting 1 hour)
3 group sessions (each lasting 2 hours)
1 one-to-one session (lasting 1 hour)
BONUS
Register till October 19th and SAVE 10% with Promo Code >reCovery2023< at Checkout!

"Healing is never complete until we have been truly heard.
May the universe send you someone who will sincerely care to listen."
Meet with
Facilitator
I'm exited to get to know you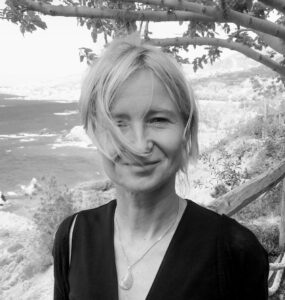 Tamara Romaniuk
Somatic Counsellor, Open Floor Movement Facilitator, Artist, Trainer of Mindfulness.
Tamara Romaniuk underwent Gestalt Awareness Studies and completed psychotherapy training at the Christoph Mahr Institute in Berlin. Trained by experts like Stephen Porges, Peter Levine, Bessel van der Kolk, and Tara Brach, she specializes in trauma treatment and the pain of abandonment. With certifications in Integrative Trauma Somatic Therapy, Attachment Somatic Therapy, IFS, IRF, Clinical Trauma Professional, and Integrative Sex and Couples, she offers high-level services with constant self-improvement and supervision. She supports the Embodied Sexuality Circle at Open FloorInternational.

Follow future events
Subscribe to Embodied Life and get unlimited access to FREEDOM, PEACE, and JOY