Open Floor residential retreat with Tamara Romaniuk & Masha Kozlovskaya
Cyprus, April 20-23, 2022
What would it be like if goodness was available to each of us at any time? Like if it sat in a store on one of the available shelves so you could go and get it.
What would you pick up?
And what would be the way for you to be with that?
What would that mean to you?
Perhaps to ...
Let go
allow to touch and be touched
feel the embrace of nature
revel to trust the unfolding.
surround to the surroundings
Would that mean that you could see the goodness in you?
Would there be anything more you would like to invite or open to?
Inhale, exhale - let your SPIRIT collaborate
where the sun sets behind the mountains and awakens in the morning by the sea
Book your spot here
Place to rest and to explore
Join us on this beautiful island of Cyprus at Akamas National Park to build and discover new resources and creative opportunities that will help and support you to dwell in goodness as we navigate between the imprints of our past and the unpredictable territory of our future.
Gathering together in a vast field, on a beach, under a blue sky, listening to the birds sing, breathing our whole selves into the landscape around us, we will dance, move, create and listen to each other, learning what supports us in bringing ourselves BACK TO GOODNESS in every moment of our lives.

During our time together we will dive deep into embodied exploration. We will be supported by Open Floor movement and somatic practice, mindfulness, creative art exploration, music and the beautiful surrounding nature.
Sessions twice a day
During the session, we will offer you various resources to help you regenerate and create new ground for the present moment and your future.
Dance on the beach
In nature we will use a silent music set - for your pleasure and respect to nature
Time for yourself
Between sessions there will be time to have lunch, rest and be in nature - swim, hike, walk around and breathe.

Date & Time:
20 - 23 April 2023
Thursday, starting at 17.00
till Sunday 13.00
Workshop fee:
Cost: 250 / 290 €
250 € early bird price, if paid in full until March 19, 2023
290 € normal price, after March 19, 2023
*Reduction possible on request - contact us here

Aphrodite Beach Hotel it is a small family owned hotel, located 500 m from the most beautiful and serene place in Cyprus, the Akamas Peninsula National Park, in the North West of Cyprus and about 40 kms from Paphos. You can enjoy the long remote beach during the whole stay.
34,50 € per person per night in a Double/Twin Room
59,50 € Double/Twin Room, single occupancy
paid at the venue
Depth. Body Resonance. Nourishment
This is a unique opportunity to spend this four days with us in a very intimate, nourishing atmosphere!
We also recommend that you arrive early or stay a little longer in this wonderful place. There are many beautiful places to visit in the area.
Our negotiated hotel price will remain the same for you during your entire stay.
Movement Meditation & Somatic Practice in nature for your health and well being
Meet with
Facilitators

We're exited to get to know you

Open Floor teacher, Somatic Coach & Therapist, Artist Trainer of Mindfulness.
She completed the Power of Awareness training from the University of California-Berkeley, Greater Good Science Center and ATI. She had the good fortune to go through Gestalt Awareness Studies and train with top experts in modern psychology and trauma resolution.
She is accomplished with training in Integrative Somatic Therapy and Somatic Attachment Therapy.
Tamara leads Open Floor workshops, movement classes and individual sessions online and in person.
She speaks English, Polish and German
Tamara Romaniuk
SOME LIPSUM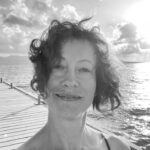 Open Floor teacher, Gestalt therapist and Therapy-in-motion practitioner
She has her basic background in developmental psychology and is a trained gestalt therapist. Being passionate about continuous professional and personal growth she has added to her portfolio BodyMind Gestalt training with Arye Burztyn (Israel) and Therapy – in – motion specialization from Open Floor International.
She is teaching mindful movement online and live, offering therapy-in-motion groups and one-to-one sessions.
She speaks Russian and English, Spanish, Italian and currently learning German.
Masha Kozlovskaya
SOME LIPSUM
Follow future events
Subscribe to Embodied Life and get unlimited access to FREEDOM, PEACE, and JOY