Tamara Romaniuk – certyfikowany nauczyciel Open Floor, Coach & Terapeuta, Artysta i Trener Mindfulness.
Ukończyła trening Power of Awareness na University of California-Berkeley, Greater Good Science Center i ATI.
Proces Gestalt, w którym uczestniczyła., zainspirował ją do dalszego działania i rozwoju oraz stal się praktyką jej życia. Absolwentka Akademii Sztuk Pięknych w Krakowie.
W ciągu ostatniej dekady stworzyła firmę Local Heroes, aby promować kreatywność, indywidualność i przedsiębiorczość. Była to jej odpowiedź na globalizację.
Obecnie mieszka w Berlinie, gdzie łączy wszystkie swoje umiejętności i wieloletnie doświadczenie, aby zaoferować alternatywny sposób bycia w naszym świecie.
Prowadzi warsztaty Open Floor, zajęcia ruchowe i indywidualne sesje online i osobiście.
Pracuje również jako konsultant dla organizacji podnosząc świadomość w zarządzaniu i w zdolnościach relacyjnych opartych na naszych wyjątkowych ludzkich możliwościach. Pasjonuje ją twórcza ekspresja, źródło naszej kreatywności i siła życia.
Skontaktuj się: tamara@tamararomaniuk.com
Łatwo mnie znaleźć: Facebook | Instagram | Linkedin
---
+ kilka osobistych słów, które usłyszałabyś/-byś, gdybyś spotkała/-l mnie w berlińskiej kawiarni:

Od kiedy pamietam, zawsze byłam niekonwencjonalną, niepokorną duszą. Studiowałam Akademię Sztuk Pięknychw Krakowie, ale zawsze zastanawiałam się co to oznacza być prawdziwym artystą.
Po latach poszukiwań zrozumiałam wreszcie, że każdy z nas jest ARTYSTĄ malującym obraz swojej egzystencji.
Podczas tworzenia mojej firmy Local Heroes miałam przyjemność mieć wiele rozmów z właścicielami małych firm. Przedsiębiorczość stała się moimi tylnymi drzwiami do rozmów o świadomości i pokonywaniu przeszkód.
Moja duchowa ciekawość i głębokie pragnienie wolności zabrały mnie na przygody po całym świecie. Miałam szczęście, poznać na swojej drodze filozofię życia Gestalt .
Poświęciłam się pracy nad poszerzaniem świadomości i pogłębioniu wiedzy na temat technik uzdrawiających, intuicyjnego poznawania, umiejętności słuchania z otwartym sercem i świadomej komunikacji w relacjach. Brałam udział w wielu warsztatach, poznałam mentorów i wizjonerów…
Studiowałam mindfulness i praktykę medytacji w ruchu. Taniec nauczył mnie, jak lepiej rozumieć siebie, kiedy mój umysł próbował mnie oszukać. Lata wewnętrznej pracy zaprowadziły mnie do miejsca, gdzie świadomość spotyka się z uczuciami, a dusza ucieleśnia.
Jestem bardzo wdzięczna za możliwość spotkania na mojej ścieżce samorozwoju niesamowitych nauczycieli, terapeutów, artystów, którzy pomogli mi odkryć to, kim naprawdę jestem.
Między nimi znajdują się Andrea Juhan, Kathy Altman, Lori Saltzman i inni nauczyciele z Open Floor International – szkoła praktyki świadomej obecności, poprowadziła mnie do innego poziomu zrozumienia tego, kim jesteśmy jako istoty ludzkie, jak możemy się lepiej komunikować i być z sobą w naszych relacjach, co nas łączy – i jak transformować to co już nie działa i czuć się w pełni żywymi.
Również jestem wdzięczna za spotkanie na mojej drodze Danielle Laporte autorkę wielu tekstów i książek, twórcę programu Fire Starter Sessions, Desire Map. Jej klarowność pomogła mi dostrzec moje umiejętności i dała mi pozwolenie na podążanie za moimi prawdziwymi pragnieniami.
I wszyscy z Was, którzy nadal odzwierciedlają moją obecność, którzy sprawiają, że pozostaję autentyczna i widzę moje cienie – dziękuję wam! Dzięki temu mogę nadal wzrastać i być dla Ciebie lustrem kiedy wszystko jest niby ok, ale wiesz że coś drzemie w Twojej duszy co wymaga poświęcenia twojej uwagi.
Cieszę się na spotkanie z Tobą. Dziękuję, że tu jesteś!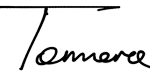 ---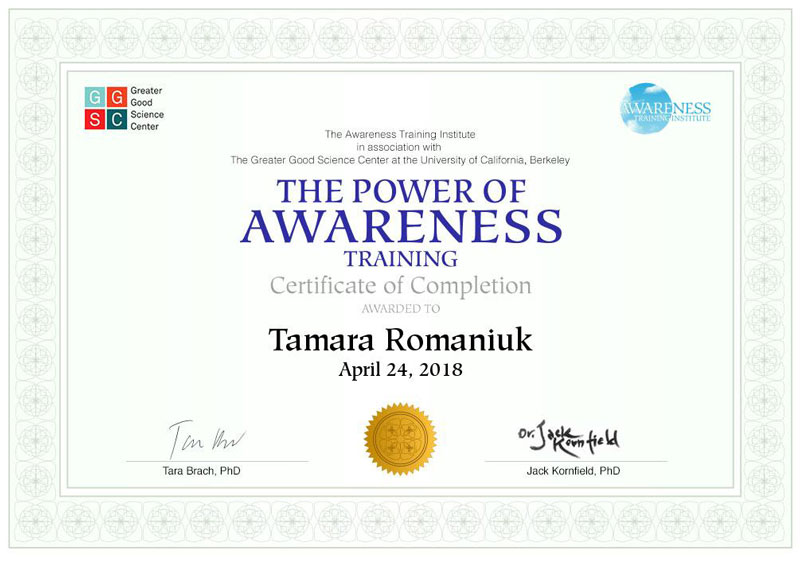 ---
Co inni mówią o mnie:

Dear Tamara,
It was amazing to be part of the workshop, it has filled me with so much love and peace. Hope our paths will cross again.
Laura Gromme, Dublin

Tamara! This was a real cutting-edge work­shop among those I've been at­tendig for years. It helped lead­ing my thoughts in the di­rec­tion of the de­sired. Of the su­per ex­cit­ing "yet-non-physical". In the di­rec­tion where I can feel lighter, with­out lack­ing some­thing, strong, ca­pa­ble, con­fi­dent, wor­thy, in­spired, amaz­ing… Al­though we did not talked much I have the feel­ing that there was a great em­pha­sis on our own re­spon­si­bil­ity of our vi­bra­tional state of be­ing. I learned feel­ing su­per is kind of mat­ter of our choice – and if we dare to make it, an up­ward spi­ral be­gins work­ing pretty instantaneously.
It's okay, I've heard this al­ready from a hand­ful of con­tem­po­rary gu­rus. How­ever, all this un­der­stand­ing com­bined with day long move­ment prac­tices (and instruction-less free dances) have made these so alive, so true, so vivid, valid and au­then­tic that it could reach some very deep area inside…
Many thanks Tamara, for lead­ing the group to­wards these experiences!"
Dávid Ko­hout, Budapest

Dear Tamara,
Thank you for a bril­liant work­shop. Thank you for walk­ing your talk and liv­ing from your soul. Any­one who val­ues them­selves as a unique soul who wants to ex­press them­selves to the full and is will­ing to trust in the process and your skil­ful guid­ance can­not value to bring away last­ing richness.
Every as­pect was thor­oughly pro­fes­sional and I know you will go from strength to strength.
With love,
Alexan­dra, London

Dear Tamara, thank you for being so caring around us. I`ve been landing very happy in my everyday real world. Smiles and deep relaxing breaths are visiting me and I feel like having done something very precious for myself.
About the workshop I want to say, that the theory of first declaring the wanted feelings and then to find out what to do, is very helpful for me. I had been thinking nearly my entire life about things, which could be quite hard and desperate. Only the last few years stuff got more clear and I got more and more relaxed. But being shy and introverted didn`t make it easier to live the life I imagined.
So having many feelings formulated and named and kind of explained, my head could calm down calm down and let the body and soul take the leadership. This is where your personal style how to make the workshop with so much dancing, plays a major role. I noticed in the beginning when everybody started to move, I was a bit overstrained or overwhelmed and didn`t know what to do. But by continuously pushing myself like, this is it, just do it, it got easier and easier. And when I finally understood that no one was watching or kind of judging me, I lost even more of my shells. This was a big step for me. You were supporting us by the chosen music, there were different moods and feelings that came out and wanted to be expressed. Ten years ago I would not have believed I even could like this. But now things are different. And on the last day I felt so sure and I could kind of "control" the room, the space, and interact with the people at a different level – that was magic. I haven`t experienced this with so many people before. Thank you very much for this! Plus, I feel like I got a level up at feeling self-confident and self-assured. And I learned once more to enjoy my body and to move.
So now the seed is planted and about to grow. I`m so happy!
Love
Karen, Berlin