When:
November 26, 2020 @ 7:30 pm – 9:30 pm
Europe/Berlin Timezone
2020-11-26T19:30:00+01:00
2020-11-26T21:30:00+01:00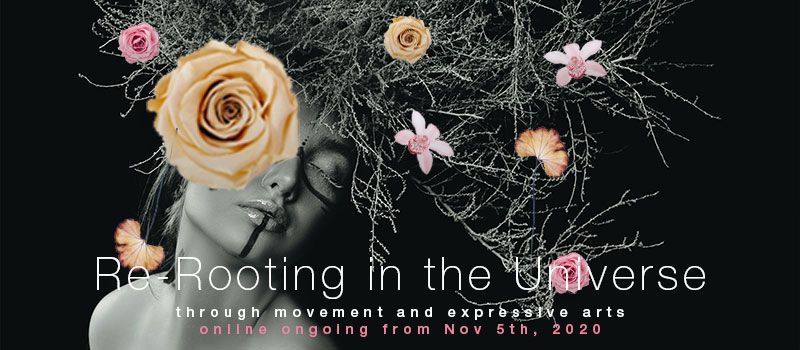 Deep dive into a creative laboratory. A series of sessions across Thursday evenings to help you rebuild and re-root yourself in the Universe.
"The human race is dying. It is like a great uprooted tree, with its roots in the air. We must plant ourselves again in the Universe" D.H. LawrenceAcross Thursdays evenings, we will meet in the virtual space to awake our soul, to find our ground and re-root ourselves again. Together, we welcome anything that will arise from our heart, body and soul. We will receive support from each-other by witnessing and uniting us in collective wisdom.
Within a safe inclusive atmosphere, where we can feel supported and welcomed we will combine the power of moving meditation with inquiry and expressive art/writing. We will play, we will stir our hearts and minds and have lots of fun.
Duration: Thursday evenings, each session last 2h, from 19.30-21.30
Note: the last session before winter brake be on Thursday, December 3rd
Location: Online (After you sign up, you will receive an order confirmation, which includes the link to the virtual space on Zoom)
Tickets:
Ticket sales end 30 minutes before the start of class.
Once you register, you will be sent a confirmation email from Eventbrite, in this e-mail will be icluded ZOOM link registration.
To ensure the security of the room, ZOOM requires extra registration. Depending on when you register, the link will be sent to registered participants via Eventbrite and then again about 2 hours before the start of the class.
(Be sure to scroll down to the "Additional Information" section to view the link. Check your inbox, and if you do not see correspondence with Eventbrite in your inbox, check your Spam or Promotional Folder to make sure it doesn't slip through the channels.)
If you are having issues, please reach out, we will try to do everything in our power to assist: openfloor@tamararomaniuk.com
Preparation:
Make sure your computer or device is plugged in or charged fully.
Wear comfortable clothing.
Please set your space in a way that feels good to you.
Please have your water close by.
Please prepare some art materials – it can be something simple like a pencil and sheets of paper or more colorful crayons, paints, magazines for making a collage and your beloved notebook
Last but not least:
There will be plenty of opportunities to engage, discuss, and ask questions. You will be able to take practical tools back to your daily life. I promise.