When:
January 25, 2020 @ 7:00 pm – 9:00 pm
Europe/Berlin Timezone
2020-01-25T19:00:00+01:00
2020-01-25T21:00:00+01:00
Where:
Pałac Kultury i Nauki
Pałac Kultury i Nauki
plac Defilad 1, 00-901 Warszawa
Poland

Contact:
Małgorzata Urbańska
+48 511 100 790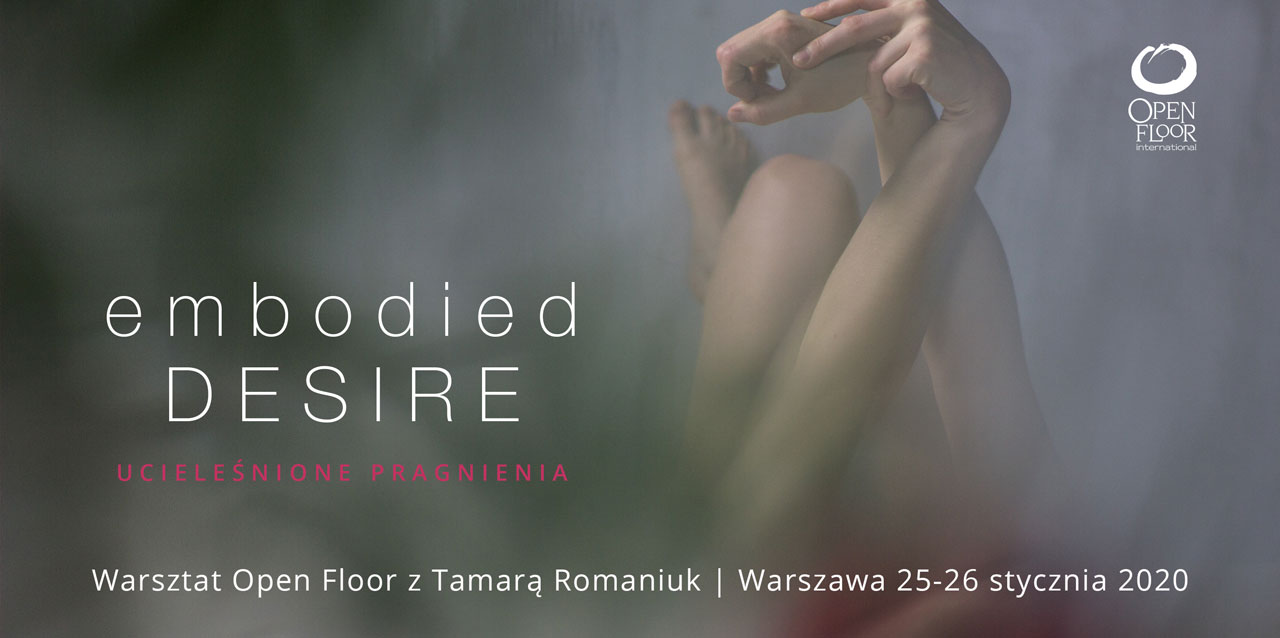 [english below]
"Potrzebujesz pragnąć, aby w pełni żyć. Potrzebujesz wizji, aby zaspokoić twoje pragnienia" Danielle LaPorte
Ten warsztat jest idealny na nowy początek. Jego czas przypada na okres Kiężyca w Nowiu, pierwszego w najbliższym nowym roku.  Jest on zaproszeniem do wyobrażenia i urzeczywistnienia nadziei i pragnień na najbliższą przyszłość, następny rok, dekadę albo i dalej. Jest on zaproszeniem do przyjrzenia się temu co leży głęboko pod naszą skórą i co chce się narodzić.
Wykorzystując siłę praktyki ruchu Open Floor, będziemy wsłuchwiwać się w nasze ciało, w szepty naszych myśli i w nieustannie zmieniające się emocje aby przygladać się temu co nas wspiera, co chcemy utrwalać i wzmacniać.
Poruszając się, naturalnie zbliżymy się do niektórych z tych miejsc, które zostały przypruszone lub gdzieś zapomniane. Będziemy zwracać uwagę na to co wymaga uzupełnienia i uwolnienia.
Stworzymy bezpieczną przestrzeń, w której wszystko co się pojawia jest mile widziane. Będziemy dzielić się refleksjami aby odkrywać nasze prawdziwe pragnienia.
Poruszając się z tym wszystkim – wsłuchamy się głęboko i zatańczymy nasze pragnienia, łącznie i solo – z samym sobą, z sobą nawzajem i z naszym światem.
Ten warsztat jest dla wszystkich, zarówno dla osób z doświadczeniem w medytacji w ruchu jak i dla osób dla których będzie to pierwsze spotkanie z tą praktyką. Nie ma tu żadnych kroków których się musisz nauczyć, nic nie możesz zrobić źle, wszystko będzie takie jakie ma być. Każdy może może uczestniczyć a nowe osoby są mile widziane
Data i Czas:
Sobota 25 stycznia: 19.00-21.00,
Niedziela 26 stycznia: 11.00-18.00
Inwestycja:
Tańsza cena: 195 zł przy włacie do 12 stycznia
Normalna cena: 250 zł
Minimalna liczba uczestników: 10, maksymalna 20
Zapisy i dodatkowe informacje:
Organizator: Małgorzata Urbańska , malgosia.u@gmail.com,  +48 511 100 790
lub Tamara Romaniuk, openfloor (ad) tamararomaniuk.com
---
"You need DESIRE to be fully alive, You need vision to fulfill your DESIRES." Danielle LaPorte
This workshop is ideal for a new beginning. Its time falls on the New Moon phase in the New Year. It is an invitation to imagine and realize hopes and desires for the nearest future, next year, decade or more. It is an invitation to take a look at what lies deep under our skin and what is asking to be born.
Using the power of Open Floor movement practice, we will listen to our body, the whispers of our thoughts and the ever-changing emotions to see what supports us, what we want to perpetuate and strengthen.
By moving, we will naturally approach some of the places that have been parched or forgotten. 
We will pay attention to what needs to be replenished and released.
We will create a safe space where everything that appears is welcome. We will share our reflections to discover our true desires.
Moving with all of this, we will listen deeply and dance our desires, including our selves, each other and our world.
Date and Time:
Saturday 25 January: 19.00-21.00,
Sunday 26 January: 11.00-18.00
Price:
Early Bird: 195 PLN przy włacie if paid in full till January 12th
Total prce: 250 PLN
Minimum number of participants: 10, maximum 20
Registration and additional information:
Contact: Małgorzata Urbańska (the organizer) , malgosia.u@gmail.com,  +48 511 100 790
or Tamara Romaniuk, openfloor (ad) tamararomaniuk.com