When:
September 6, 2020 @ 11:00 am – 6:00 pm
Europe/Berlin Timezone
2020-09-06T11:00:00+02:00
2020-09-06T18:00:00+02:00
Where:
Somatische Akademie Berlin
Paul-Lincke-Ufer 30
10999 Berlin
Germany

(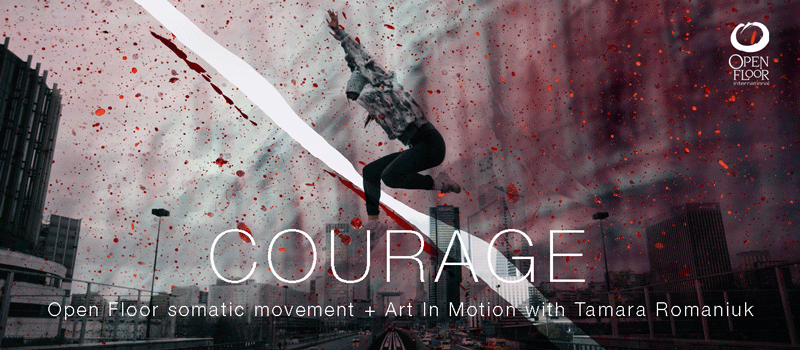 "Sometimes even to live is an act of courage" – Seneca
In times of growing concern and difficulties, I'm asking myself … do we have the COURAGE to remain PRESENT? 
Do we have the COURAGE to connect and respond with our authentic SELF and embrace everything that life brings us at this moment?
Do we have the courage to be FULLY ALIVE?
In this one day workshop, we will try to answer those questions, we will combine the power of moving meditation with art expression, inquiry, writing, and a bit of theater.
Within a safe inclusive atmosphere, where we can feel supported and welcomed, we will play, we will challenge ourselves and have lots of fun.
I would love to see you in this next – one day workshop.
I hope life will not stop you from coming. 
Connect with me: tamara@tamararomaniuk.com or register now.
Price:
Early bird price: 95 euro if paid fully till August 23rd
Normal price: 120 euro
Price includes art materials, snacks, and drinks.
If money is the only thing which may stop you from coming, let me know!
The workshop will be led in English, with a possible partial translation into German.
A minimal amount of participants: 6, maximal 12
Have a question? | get in touch: openfloor (ad) tamararomaniuk.com
---
Mut, dich zu zeigen. Mut, deinen Platz einzufordern. Mut, für dich selbst, für deine Kinder einzutreten. Mut, Fehler zu machen. Mut, etwas Neues zu beginnen. Mut, voll und ganz zu leben. Was braucht es, um diese Fähigkeiten zu haben?
Was braucht es, um aus deiner Komfortzone herauszutreten? Was braucht es, um eine Veränderung vorzunehmen?
Haben wir den Mut, das, was in unserem Körper lebendig ist, zum Ausdruck zu bringen?
Haben wir den Mut, das auszusprechen, was ausgesprochen werden muss?
All das und wahrscheinlich noch mehr möchte ich mit dir in diesem Workshop erforschen.
Lass uns einen genaueren Blick auf das werfen, was uns zurückhält. Lass uns die Präsenz, die Musik, die Kunst und die Aufmerksamkeit aufeinander richten. So können wir wachsen und aufblühen, bewegt und erschüttert werden.
In diesem eintägigen Workshop werden wir die Kraft der Bewegungs-Meditation mit Kunst, Schreiben und Theater verbinden. In einer sicheren, integrativen Atmosphäre, in der wir uns unterstützt und willkommen fühlen, werden wir spielen, uns selbst herausfordern und viel Spaß haben.
Das erfordert vielleicht ein bisschen MUT.
Nimm gerne Kontakt zu mir auf: openfloor@tamararomaniuk.com
oder melde dich direkt hier an:
der Workshop wird in englischer Sprache abgehalten, mit etwas deutscher Übersetzung, wenn nötig